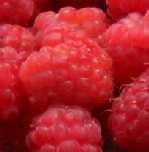 Since we've had a yard, I've always wanted a raspberry patch.  Raspberries are my favorite:  raspberry jam, raspberry syrup, and of course raspberry pie.  I've never had a yard where I could do that.  So, when a friend offered some of her "starts," I decided that this was the year.  So, she helped me pick a bed and I decided to clear it.
Here's what it looked like before – the one on the left.
There were fewer plants on that side than on any other, so my thinking was that it wouldn't be too hard.  We transplanted a few of our favorites.  But, we found that the whole bed had a deep layer of mulch, covering a deep layer of lava rock, covering 3 layers of ground fabric.  Not such an easy project.  Still, we started something and we're going to finish it.
This bush has been whacked over the last couple of weeks.  I think I'm going to miss this little guy.  When the kids said they were bored, they had to go and cut down pieces of the bush.  When the kids fought with each other, they took some turns cutting it further.  When I needed some quiet time, I sent them out to work on the bush.  It was a beast.
After I finally got the bush loose, I couldn't even lift it on my own. 
After school, the kids beat on the roots to remove the dirt.
Now we're one step closer to our raspberry patch.  Caleb's preparing the bed for me (for a small fee).
I typically haven't been great at helping things grow, but I'm determined.  Here's what needs to happen next:
1. Mix plenty of humus and rich organic material as well as multipurpose fertilizer into the soil.
2.  Insert posts at each end with wire running between the two.
3.  Plant new canes 3 feet apart so that there's room between for all of the little shoots.
4.  Cover area with mulch to discourage weeds.
5.  Water like crazy for the first 2 weeks until good roots are developed.
If anyone reading this post has some additional words of advice, I would love to hear them.  Maybe in a couple of years we will be enjoying our own berries.